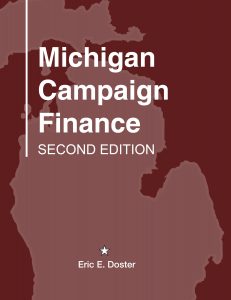 In 2013, Eric Doster released his book "Michigan Campaign Finance," the first reference book ever written on Michigan campaign finance law. Doster, a recognized leader in this field of law, designed the book to help people understand this complex topic. This treatise is the Second Edition of Michigan Campaign Finance.
This comprehensive resource is organized to be a useful reference manual including chapters on applicability of the Michigan Campaign Finance Act, fundraising events, reporting requirements and offenses and penalties.
"'Michigan Campaign Finance' is a fantastic and incredibly useful resource for all expertise levels in the field, and reflects its author's careful approach and accumulated depth of knowledge. The book has been thoughtfully drafted and updated, and has become a go-to source of information on questions that come up", said Kieran Marion, Executive Vice President of Advocacy for the Michigan Credit Union League.
Eric is the longest-serving General Counsel in the history of the Michigan Republican Party, having served in this position from 1992 to 2017. He represents many of Michigan's largest trade associations, corporations, and political organizations in complex and precedent-setting election law matters.
"The consequences for failing to comply with Michigan Campaign Finance law are severe financially and politically. You need an expert familiar with the law to guide you and Eric and his book do just that," said Jim Holcomb, President & CEO at the Michigan Chamber of Commerce.